Meet the boys in the first Wolves of Gardwich instalment.
Pre order it from the SirenBookstrand website here.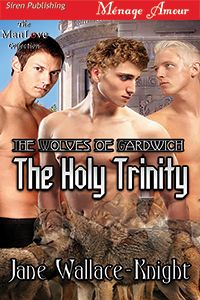 Sam Reed was born different, it was a fact he had always known and tried to hide. Abandoned as a baby he had always felt out of place, never really knowing where he came from or why he could do the things he could.
Jackson Harcourt had long feared the day he would meet his mate. Banished from his birth pack, Jackson soon found himself in charge of a pack of outcasts and misfits, all looking for somewhere to belong. Fifty years ago Jackson met and fell in love with a seven hundred year old vampire named Alek and together they had not only built themselves a pack, but a family.
When fate threw Sam, Jackson's true mate, into Jackson's path, Alek's ancient heart felt as though it would finally break into too many pieces to ever again be whole. As Alek prepared for the worst though, he began to wonder if perhaps fate didn't, truly, move in mysterious ways.